Start registration: 8h30, Monday 11 June
Start conference: 9h00, Monday 11 June
End conference: 17h00, Tuesday 12 June
Back from site visits: 15h00, Wednesday 13 June
Eastern European Time (EET)
Conference highlights are:
From the European Commission Consultative Communication on Sustainable Use of Phosphorus (2013), to policies today engaged, to perspectives for tomorrow
Final workshop of the BSAG nutrient recycling business ecosystem
Plenary presentations on success stories in nutrient recycling and nutrient emission abatement and ecosystem restoration, from Europe, worldwide and Finland
Parallel sessions & poster sessions
Company success stories
Eutrophication mitigation success stories
Conference Networking Dinner, Helsinki City Hall at Monday 11
Wednesday 13th June: site visits to nutrient success stories for those interested
Confirmed speakers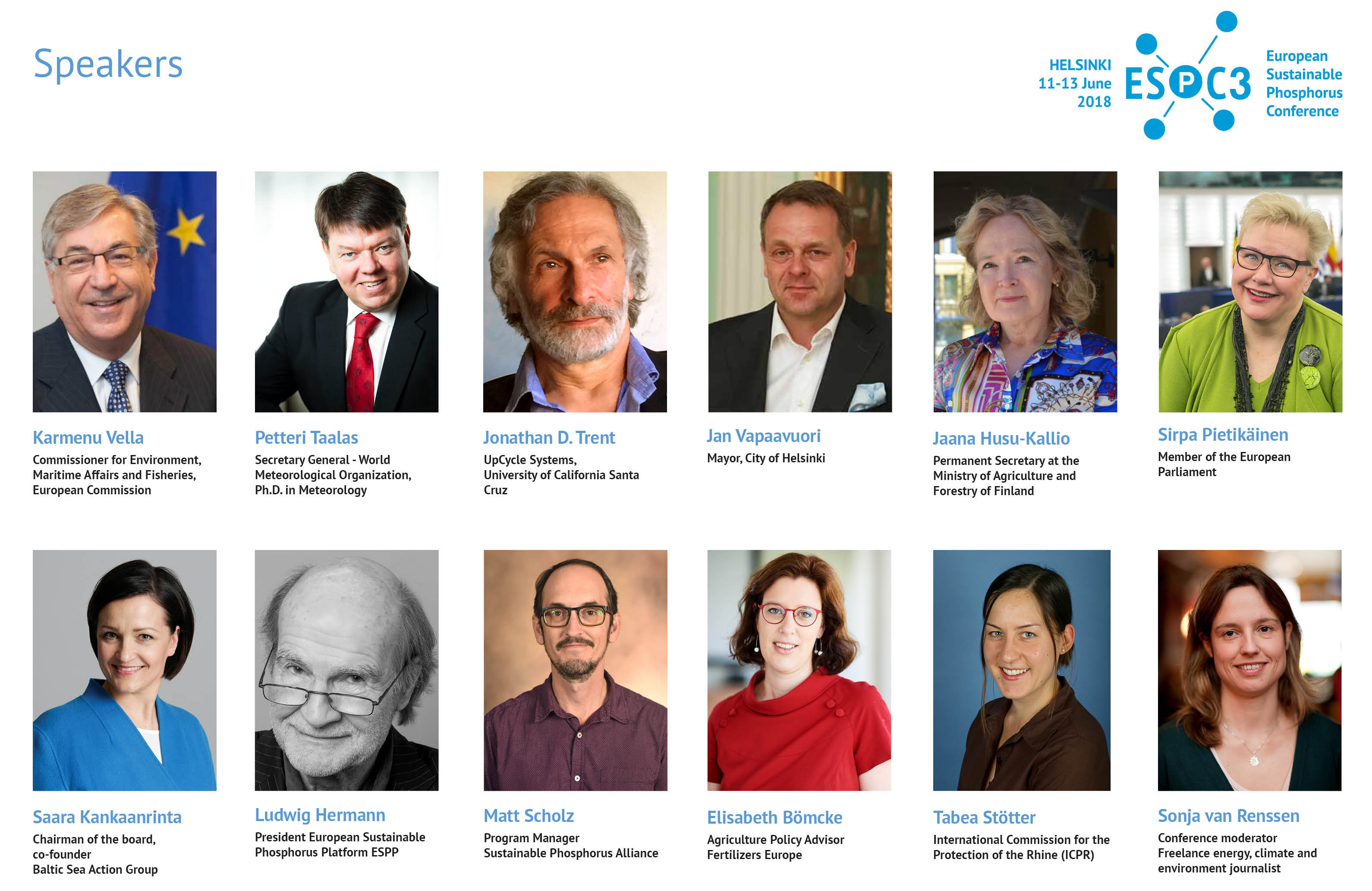 Full speakers summary can be found in this PDF
Confirmed lead speakers include: Karmenu Vella, European Commissioner for the Environment (video message), Petteri Taalas, Secretary-General of World Meteorological Organization, Sirpa Pietikäinen, Member of the European Parliament, Jonathan Trent, adjunct professor University of California at Santa Cruz, Jan Vapaavuori, Mayor of city of Helsinki, Jaana Husu-Kallio, Permanent Secretary at the Ministry of Agriculture and Forestry of Finland, Will Brownlie, CEH Edinburgh (Our Phosphorus Future), International Commission for the Protection of the Rhine, HELCOM, Newtrient (US dairy industry), Sustainable Phosphorus Alliance (North America), Netherlands Government, Fertilizers Europe, European Commission DG Environment and companies, R&D and projects including: SARIA, Nijhuis, WETSUS, Ostara, Italpollina, Kemira, EasyMining, Yara, Natural Resources Institute Finland (Luke), Baltic Slurry Acidification, Cooperl, Svenskt Vatten, Helsinki Region Environmental Services HSY, Metsä Group / Biolan Oy, and LIFE DOP.
Site visits
Site visits on Wednesday 13th will be arranged in three locations, which are Kemira Research Center in Espoo, Yara Kotkaniemi Research Station and Helsinki Region Environmental Services HSY sewage works – RAVITA process. The visits will start on Wednesday around 09h00 and will end by 15h00. The conference participants will receive more information on the sites and will be able to choose, which of them to visit.